Vahepeal nagin eesti kokandusblogides mitmeid macaroons tegemisi, valja tulid vahelduva eduga. Macaroon-id on vagade temperamentsed. Sarnased Itaalia amaretti kupsistele, koosnevad munavalgetest, tuhksuhkrust, ja mandlijahust.
Nagu ikka kokandus teemadel, tegijaid mitmeid ja kriitikuid veel rohkem. Sattusin uhele blogile kus grupp noori oli kohe ametlikult koik peenemad pagarikojad New Yorgis labi kainud et kus siis koige ausam makaroon on. Summeetriline, ohuline, suussulav jne jne, pluss veel maitseained ja taidis mis vahele laheb.
Enamikke peab selleks koige koige tegijaks Pariisis asuvat Laduree pagarikoda ja kuna sobranna just Pariisist tulemas, toi ta hea hing mulle suure karbi 18 erineva makarooniga. Ja tuleb tunnistada et fantastilised. Kui oled Pariisis, mine kindlasti. Odavad nad ei ole aga neid ka ei soo paki kaupa, ehk paar tukki klaasi veiniga. http://www.laduree.fr/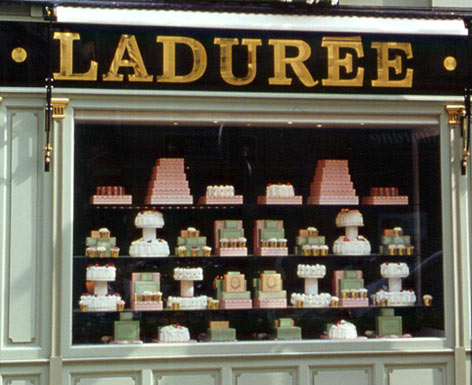 Ta oli plaaninud paar paeva enne ara osta aga kui oli seda plaani paarile prantlasest tuttavale maininud, jaid need sokeeritult teda vaatama ja uks lopuks teatas resoluutselt et macaroons peab ara sooma 2 paeva jooksul ja seetottu peab ta ostma samal paeval mil lendab. Ja reageering oli nii tugev olnud, et vaene V jooksis sama paeva hommikul enne lennujaama tottamist Laduree'sse.
Avasime pudeli punast veini ja proovisime siis koik ara. Suda laikis natukene aga vaga head olid toesti. 18 erinevast maitsest tuleb tunnistada enda ullatuseks et vanilla, pistachio ja mustika omad meeldisid koiges rohkem, ometigi kasutan ise vanilje ube nii et ehtsa maitsega tuttav. Mustika taidises olid mustika tukidki sees. Mis ei meeldinud uldse olid Morocco spice aga huvitav maitse oli siiski.
Macaroons maitseid:
Flavours that are permanently available:
Chocolate - Bitter Chocolate - Vanilla - Coffee - Rose - Pistachio - Raspberry - Blackcurrant Violet - Caramel with salted butter - Red Fruits - Orange Blossom - Liquorice - Lemon
Seasonal flavours:
Coconut - Mint - Amande - Spice and soft fruits - Chesnuts - Praline - Lemon Cedrat
Panen siia retsepti ules uhe mu kokandus lemmikult David Lebowitzilt kes kupsetas mitu satsi mis aia taha laksid aga see variant tuli valja. Kui keegi teeb, raporteerige tagasi kuis valja tuli. Link siin: http://www.davidlebovitz.com/archives/2005/10/french_chocolat.html
Chocolate Macarons
Makes about fifteen cookies
Adapted from The Sweet Life in Paris (Broadway) by David Lebovitz
Macaron Batter
1 cup (100 gr) powdered sugar
½ cup powdered almonds (about 2 ounces, 50 gr, sliced almonds, pulverized)
3 tablespoons (25 gr) unsweetened Dutch-process cocoa powder
2 large egg whites, at room temperature
5 tablespoons (65 gr) granulated sugar
Chocolate Filling
½ cup (125 ml) heavy cream
2 teaspoons light corn syrup
4 ounces (120 gr) bittersweet or semisweet chocolate, finely chopped
1 tablespoon (15 gr) butter, cut into small pieces
Prune Filling
15 medium prunes (pitted), about 5 ounces (150 gr) prunes
2½ ounces (70 gr) best-quality milk chocolate, finely chopped
2 tablespoons Armagnac
Preheat oven to 350º F (180º C).
Line two baking sheets with parchment paper and have a pastry bag with a plain tip (about 1/2-inch, 2 cm) ready.
Grind together the powdered sugar with the almond powder and cocoa so there are no lumps; use a blender or food processor since almond meal that you buy isn't quite fine enough.
In the bowl of a standing electric mixer, beat the egg whites until they begin to rise and hold their shape. While whipping, beat in the granulated sugar until very stiff and firm, about 2 minutes.
Carefully fold the dry ingredients, in two batches, into the beaten egg whites with a flexible rubber spatula. When the mixture is just smooth and there are no streaks of egg white, stop folding and scrape the batter into the pastry bag (standing the bag in a tall glass helps if you're alone).
Pipe the batter on the parchment-lined baking sheets in 1-inch (3 cm) circles (about 1 tablespoon each of batter), evenly spaced one-inch (3 cm) apart. Rap the baking sheet a few times firmly on the counter top to flatten the macarons, then bake them for 15-18 minutes. Let cool completely then remove from baking sheet.
To make the chocolate filling: Heat the cream in a small saucepan with the corn syrup. When the cream just begins to boil at the edges, remove from heat and add the chopped chocolate. Let sit one minute, then stir until smooth. Stir in the pieces of butter. Let cool completely before using.
Assembly
Spread a bit of batter on the inside of the macarons then sandwich them together. (You can pipe the filling it, but I prefer to spread it by hand; it's more fun, I think.) I also tend to overfill them so you may or may not use all the filling.
Let them stand at least one day before serving, to meld the flavors.
Store in an airtight container for up to 5 days, or freeze. If you freeze them, defrost them in the unopened container, to avoid condensation which will make the macarons soggy.